GET Designs provide a fully professional design and development service:- 3D Models, CNC Produced, Prototypes and detailed production drawings.
Welcome To G E T Designs.UK
We are, a company that supplies unique, high quality designs, for Air Rifles, Air Rifle components, Crossbows and Crossbow components to the World Trade. All designs produced by someone with many years of Production Engineering experience to ensure that everything can be manufactured to the highest quality at minimum cost. Our Aim is to supply Manufacturers and suppliers in this industry with a library of good quality designs and technical know-how for unique new products and to enable them to be brought to market much faster than they otherwise might. However we do not normally supply designs to private individuals.
Commercially, bringing new products to market represents a huge investment, especially for large companies where overheads are high. This is even more pronounced when the product is a new and advanced design. There have been companies that have very nearly gone bankrupt trying to develop Single Stroke Pneumatic or Twin Piston type Air Rifles. We have a long history of development within industry and have invested a lot of money and tens of thousands of hours in producing designs that are offered for sale on this site. The Paradigm Single Stroke Pneumatic Rifle took well over 10,000 hours to perfect and the first of our Twin Piston Rifles just over 6,000. This represents a lot of investment. However a great deal is learned during the development process and some of that technology is used in other designs, all of which are based on good solid engineering and technical knowledge.
Whilst we, mainly produce complete rifle designs we also have a wide range of component assembly drawings such as various Valves, Trigger systems, Magazines and Breaches etc. These are stand alone 3D models that can be used as a basis for a new design or adapted to be added to, or improve an existing one. Click on the component button above to see a range of advanced Pneumatic valves, both for firing and refilling, Plus Trigger systems, Magazine units, Breach mechanisms and muzzle brakes etc. We are more than happy to redesign one of our component units to suit a third party existing product or specific requirement.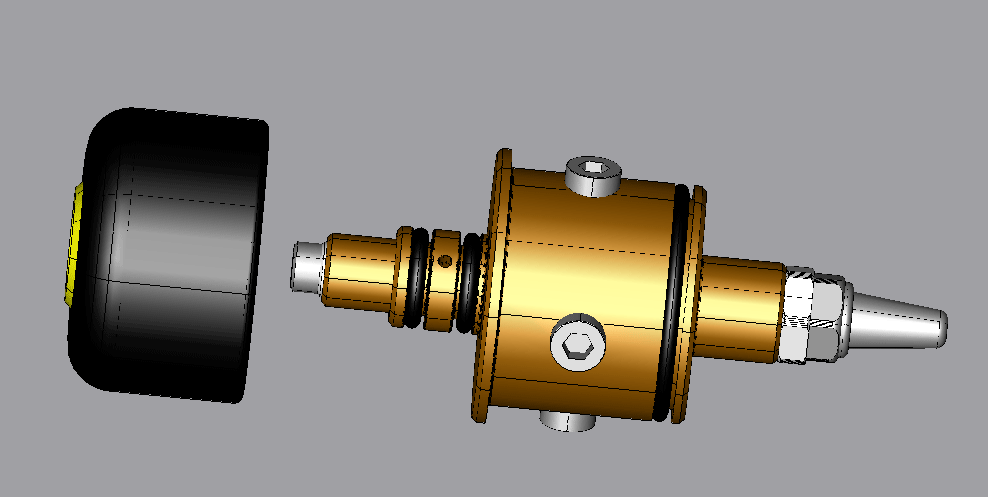 As of 2023 We are now in a position to supply a small number of very special Air Rifles from this site. Please note Here in the UK we are un-able to supply dirrect to customer but we can arrange a face to face delivery or supply via a local RFD.
Please click on our shop link to see what we have in stock, What is currently being produced and what can be made to order.
We also have a range of CNC produced components such as Picatinny Rails, Special Site mounts etc. These we supply on a made to order basis to individuals (where legally acceptable) and professionals working in the trade who want something special.
Take a look at our existing designs and if there is anything of interest, please fill out an inquiry form and we will get back to you as soon as possible. If there is nothing that fully suits your needs,we are only too pleased to design something especially for you.
For terms and conditions see the blue T and C button on the bottom of each page
Breaking News:- Rotary Breach Goes Multi :- It took a very long time to perfect but Our Rotary Breach is now available with Multi-Shot facility: the TRIM ROTOMAX system. From now on: all Rotary Breach Models will be available with one, two or eight shot facilities on designs such as Fox3 and Lone Wolf etc. (See Fox3 on Air Rifles Page for more details.)